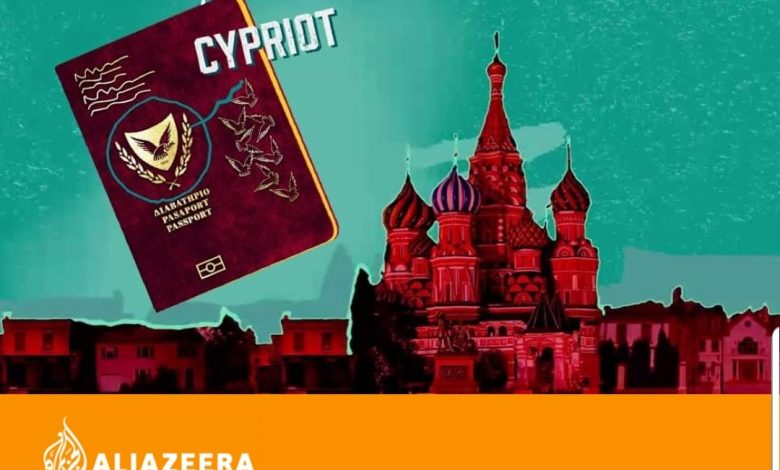 More than 1,000 Russians obtained a Cypriot passport through Cyprus's citizenship-by-investment scheme, Al Jazeera can reveal after an investigation of more than 1,400 leaked documents.
The Cyprus Papers consist of 1,471 applications, containing the names of 2,544 people who received a Cypriot passport between late 2017 and late 2019.
The documents obtained by Al Jazeera's Investigative Unit showed that almost half of the applications came from Russia, showing how the country's political and business elite, billionaires and criminals have been buying their place in the EU, granting them the ability to travel, work and bank in the whole of the EU.
Most of what the $2.5m applicants need to invest to qualify for citizenship is put into real estate.
Upon arrival at Larnaca International Airport, signs in Russian offering investment opportunities, luxury properties and adverts for the many agents wanting to handle the citizenship application, show just how important Russia has become to the scheme.
Among those that acquired passports are former Deputy Minister Igor Reva and former member of the Russian parliament Vadim Moshkovich. The list also includes the former boss of a subsidiary of the state-owned railways, Vitaly Evdokimenko, and Vladimir Khristenko, who comes from a highly politically connected family, with his stepmother serving as the current deputy prime minister of Russia.
The reason these politically connected people look towards Cyprus, and by extension, the EU, is because they fear their possessions might be at risk in their home country, Nigel Gould-Davies, a Russia expert at the United Kingdom's International Institute for Strategic Affairs, told Al Jazeera.
In Cyprus's second-largest city, Limassol, there is a sign in Russian that reads Limassolgrad.[Al Jazeera]
"They do not trust their own Russian state to leave them or their assets alone," Gould-Davies said.
"They are looking for a place with the rule of law absent in their own country and that also will not scrutinise their applications too closely, make it easy for them to send their money and grant them citizenship."
Among the 1,000 Russian names are some of the country's richest men, with Al Jazeera identifying at least nine oligarchs, each worth more than $1bn.
More than a dozen of their relatives are now Cypriot citizens, able to move money around the world with less chance of being flagged as "high risk" because they are now able to use their EU citizenship.
Following Al Jazeera's revelations, there have been calls for a change in the citizenship-by-investment programme employed by Cyprus and other European Union member states.
In a letter to the European Justice Commissioner, Member of the European Parliament Sophie in 't Veld said it is "high time that the Commission gears up towards more decisive action on this front".
"Clearly, the situation is becoming untenable and inexplicable to EU citizens who fight for equality and against corruption," in 't Veld's letter said.
"A more ambitious EU policy and regulatory framework is thus urgently needed."